Love your HaggleCo style? We want to see it!
Share a pic of the HaggleCo look you've created in your home on Instagram, tag @hagglecoau and use #furniturewithpersonality for your chance to WIN a $500 HaggleCo Gift Card!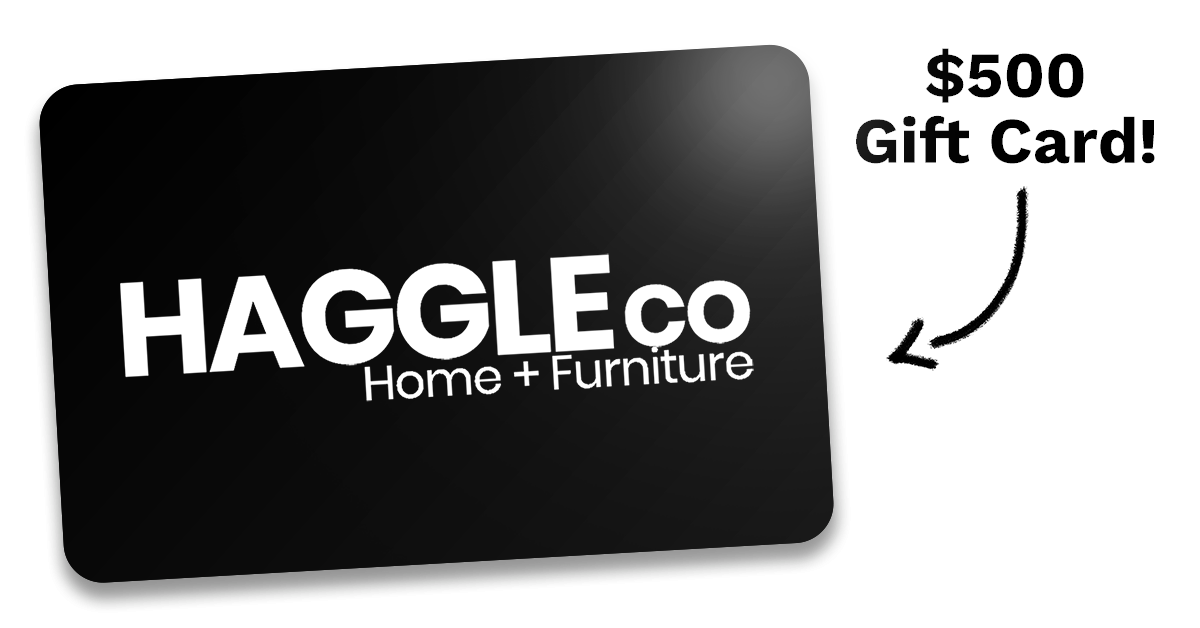 How to show us your #furniturewithpersonality
Participation in this promotion constitutes acceptance of these terms.
The promotion is open to Australian residents. 
Employees and their immediate families of the promoter are ineligible to enter. 
The promoter is HaggleCo Home + Furniture
The Promotion commences on 01.07.21 closing on 29.09.22 at 11.59pm ACST (Promotion Period)
To enter the promotion, entrants must, during the Promotion Period: Submit an image of their styled HaggleCo Home + Furniture products(s) via the following methods (entry)
Upload image on their own Instagram account, mentioning @hagglecoau and using the hashtag #furniturewithpersonality
Entrants must ensure that their Instagram posts and accounts are not set to "private" (meaning that your privacy must be turned "off") in order for the Promoter to view and access your entry.
Entries generated by script, macro, bot, or other automated means are not eligible to enter the promotion. Each entry which is correctly submitted will be in with a chance to win the monthly prize on offer during the week in which they were entered. For the purposes of this competition a "month" will be the last Thursday of every month. The first monthly draw will be drawn on 30.09.2021 followed by a draw every last Thursday of every month until the last draw on 29.09.2022. Any entry received after 11:59pm ACST on the last day of each "month" will be entered into the competition for the following week.
Multiple entries will be accepted.
Each prize winner will receive one (1) $500 HaggleCo Home + Furniture Gift Card (the Prize).
Prizes are non-transferable and cannot be redeemed for cash, and cannot be used to cover delivery costs.

 

HaggleCo Home + Furniture indefinitely retains all rights, title and interest and unrestricted use of each Instagram post, and may use it in any matter it deems appropriate without compensation given to the subjects or producers of the submission. Once a post is submitted it becomes the exclusive property of HaggleCo Home + Furniture. The Promoter reserves the right to make edits or apply text or graphical overlays on the Winners image and re-publish the image across social media channels, including but not limited to; Instagram, Facebook, Pinterest and LinkedIn. The Winners name OR social media handle will also be published in conjunction in any instances where an edited Winners image is reposted.
 HaggleCo Home + Furniture reserves the right at its sole discretion to not post or to remove from the contest site, posts that contain obscene or offensive material.  All post comments will be moderated by HaggleCo Home + Furniture, who may delete any comment and block users from commenting.
Entrants warrant that their entry is original, does not infringe the intellectual property right of any third party and has not been previously published and/or been used to win prizes in any other competition.
The winning entries, determined by the judges, will be selected based on the best styled and taken shot as determined by the judges.  This competition is a game of skill and chance plays no part in determining the winner.
If a winner is under 18 years old, the prize will be awarded to the winner's parent or guardian.
The winner's details will be published on the HaggleCo Home + Furniture Facebook page (

www.facebook.com/hagglecoAU

) & Instagram page (

www.instagram.com.au/hagglecoau

) when drawn at 6pm via social media.
The Promoter reserves the right to announce and/or publish the winners name and/or photograph for publicity purposes.
Winners will receive their prize within fourteen (14) days after being contacted.
If for any reason a winner does not claim their prize within 3 months of the winner being announced, then the prize will be forfeited. Any winner whose prize has been forfeited shall not be entitled to any payment or compensation from the promoter.
The promoter is not responsible if the value of the products changes between the date of publication of these terms and the date the prizes are awarded.
The promoter may at its absolute discretion, suspend, cancel or recommence the promotion if (a) for any reason the promotion is not capable of proceeding as planned; (b) if the promotion is corrupted or the administration, security, fairness, integrity or proper conduct of the promotion is affected; or (c) if the determination of the winners or delivery of prizes is prevented or hindered by any event outside the promoter's control.
The promoter and its associated agencies, companies, directors, employees shall not be liable in any way under these terms or at law (including, but without limitation negligence) for any loss or damage whatsoever suffered (including, but without limitation direct, indirect or consequential loss) or for any loss or damage or personal injury suffered or sustained in connection with this competition or promotion or in connection with the prize.
The promoter will collect your details only for the purposes of this competition. Pursuant to the Privacy Act, you have the right to access and correct any personal information provided by you. Winners may have their name, state and photo published for promotional purposes.
 The promoter and / or internet service providers take no responsibility for incorrect or inaccurate transcription of information, or for any human error, technical malfunctions, lost / delayed data, transmission, omission, interruption, failures of any computer equipment, software, inability to access telecommunications network services, congestion or any other error or malfunction in relation to the promotion, including but not limited to misdirected, late, or failed requests for registration.
Subject to any State or Territory gaming regulations, The promoter may cancel, terminate, modify or suspend the Promotion or these terms and conditions at any time and for any reason before the end of the promotional period and shall not be liable to any entrant or prize winner for any loss or damage incurred as a result.